Day 25:
Today was a snow day, which for me after a failed eye doctor appointment due to a large power outage meant staying in snuggled up in my bed with my animals, reading. I went to the library again, and finally I'm making a little headway with the number of books I have checked out in that the number is nearly 20, hah! It is funny to think of but it is actually progress for me. Recently there have been several new releases to trilogies I have been reading and instead of devouring those and finishing them quickly and easily I opted to tackle one of my psychology books today. Like I have said in the past, I was a psychology major and want to go to school to be a clinical psychologist. I have found several intriguing books about psychology in general, psychotherapy, and my personal fascination and clinical interest, depression. There are currently six other psychology related books in my to read pile still.
Book 26: Love's Executioner and Other Tales of Psychotherapy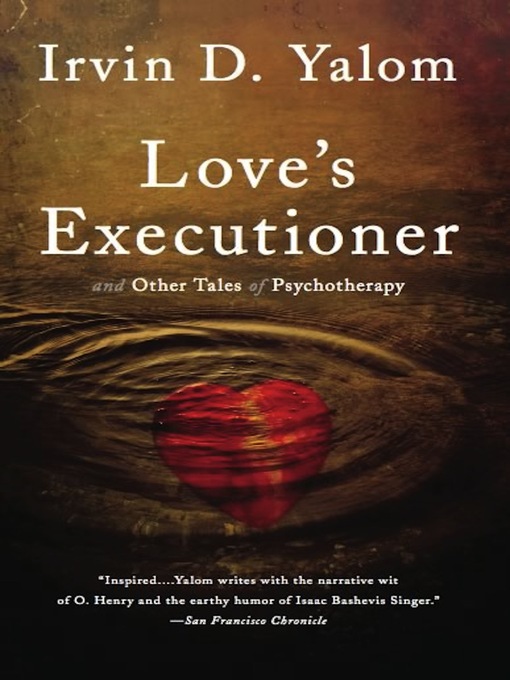 Author: Dr. Irvin D. Yalom
Genre: Psychology
Pages: 304
Series: No, although he is the author of several psychology related books and I have another one written by him in my pile
Purchased or Borrowed: Borrowed from the library through Marina
Date Read: January 25, 2013
2 stars
This book is written by a famed psychotherapist and tells ten tales of patients each dealing with different dilemmas. The patients though are not the true focus of this book, but the therapist himself as he deals with some shocking countertransference issues. Countertransference is an occurrence in psychology when a helper projects their own unresolved issues onto their client, which may interfere with the helping if left unresolved. Some cases of this were his sexualization of patients as well as the notion that he should turn away an obese woman because her form disgusted him. In the beginning before she began to lose weight, he wouldn't touch her or even look her in the eyes, and this woman noticed his behavior. I thought it was surprising and slightly unethical that he decided to deal with these issues of countertransference by taking on clients that provoked them, instead of dealing with his own issues outside of therapy. Many of the stories were interesting if a little long winded, sometimes I felt like he drug out the writing and the tale, and I did not like the man. I had such high hopes for this book and unfortunately they did not pan out. I originally thought to rate this as a 3 star book and as I began writing my review I realized that it had a lot more venom in it that a typically 3 star review would have, and that there were several things about this book that really irked me.
But now no more reading tonight as I have plans tomorrow, possibly snowboarding but we shall see how the roads go.
xo,
Erin