Hi!
I had a wonderful day out with my mom, doing some scrub shopping and I just finished a really good book and I can now write a review about the two I read the other day. I've been so busy with work that it's been hard to find time to read, and when I'm not utterly exhausted. So it has been very nice :)
Book 68: The Twisted Tragedy of Miss Natalie Stewart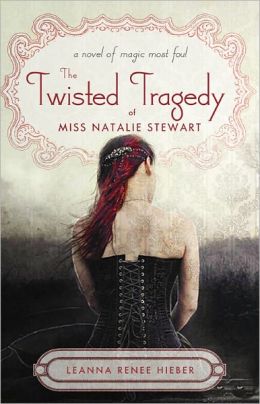 Author: Leanna Renee Hieber
Genre: Young Adult, Fantasy
Pages: 332
Series: Yes, book 2 of 3. Book 3 is not yet released.
Purchased or Borrowed: Borrowed from the library
3.5 stars
I read the first book in this trilogy earlier this year. It is the late 1800s and Natalie and Jonathan are stuck in the middle of an unnatural series of events, possession of the living and reanimation of the dead. They must figure out the evil forces at work before it is too late while also trying to figure out their budding relationship.
This book was good, I enjoyed it and I am interested to read the conclusion, but it didn't draw me in and hold me there like some other books do. It was an easy read.
Book 69: Unremembered
Author: Jessica Brody
Genre: Young Adult, Science Fiction
Pages: 320
Series: Yes, 1 of 3, books 2 and 3 are not out yet.
Purchased or Borrowed: Borrowed from the library
3.5 stars
A girl is pulled from the water after a plane wreck. No one seems to know who she is, except for an alluring boy named Zen, who states that she is Seraphina, the girl that he loves and that bad people are after her and will try and require her at all costs.
When I saw that this was about a girl with amnesia, it was nothing like the book that I expected to read. The beginning of the book morphed into a very different but still quite intriguing tale. The book is science fiction, and the second half of the novel leave future books open to even more exploration of this topic as more is explored about Seraphina and Zen.
Book 70: Daughter of Smoke and Bone
Author: Laini Taylor
Genre: Fantasy
Pages: 418
Series: Yes, book 1 of 3. Book 3 is not yet released.
Purchased or Borrowed: Borrowed from the library
4.5 stars
This is the story of Karou, a girl with blue hair that grows out of her head that way, strange tattoos of eyes on her palm, and an errand girl for monsters. Black handprints appeared on Brimstone's shop, the place where Karou grew up and considers her home, filled with the creatures she thinks of as family. But his handprint is not the only one, and soon Karou is separated from her family and comes face to face with Akiva, the angel that she sees as her enemy but yet still feels drawn to. She learns that the seraphs and the chimera have been fighting an age old battle for thousands of years. However, when Akiva discovers who Karou is, it will change everything.
This book was a slow burn, it took me a little bit to get into it, but once I did it was something that I couldn't put down. I don't know why, but I had been reluctant to read it even though I had heard only good things about it, and I really enjoyed it. I love Karou and Akiva's tale and can't wait to dive back in with the next book that I already requested from the library.
And now I think it is time for me to start another book. It is my weekend off and I plan to take advantage of it ;)
xo,
Erin